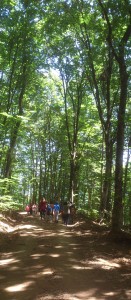 On the morning of the 16th June an unforgettable field trip to the experimental selected plot in Arnaia Chalkidiki began.
All the participants were in the best mood and were full of energy anticipating the journey to start.
The sweet sound of the blowing leaves from the enormous beech tress still sounds in our heads like a melodic song.
The image of the glowing golden leaves as the sun passes through is still imprinted in the eyes of all as an overarching vision that only nature can create. (as one participating youngster commented).
The knowledge regarding our home -Nature- that was transferred impressed and enriched the field of knowledge of all of those that participated.
It was an unforgettable experience!